Dressing up for work is a tedious job. In India, it becomes more difficult as one has to choose between the traditional Indian clothing and corporate-friendly western outfits. While the latter is something you wear daily, the former can help you experiment with new looks.
Luckily, there are a lot of choices when it comes to ethnic wear for work. India has a rich culture and clothes are an important component of it. So, without dragging this further, let's talk about the must-have traditional Indian clothing which you can wear in the office.
Thanks to celebrities who never let the trend for sarees die. Saree is a perfect blend for comfort and style. Sarees worn in offices are different from the embellished ones as they are more elegant and decent.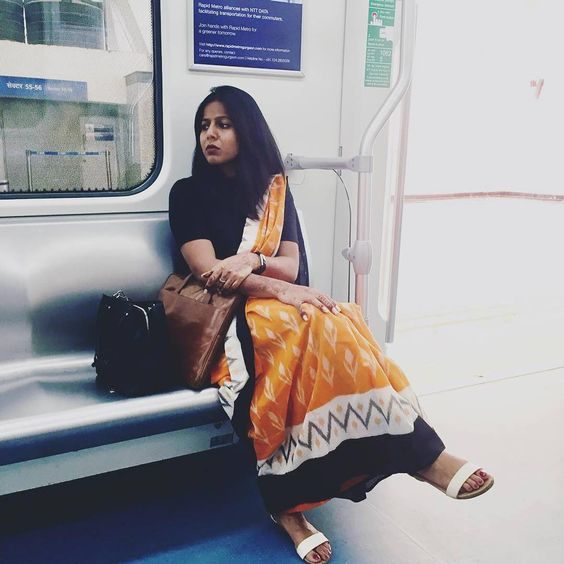 The type of pattern and color you choose for the saree reflects your attitude and focus towards the work. Hence, smart dressers go for mellow colors, earthy shades, and pastel hues while picking sarees for their office wardrobe. Avoid bold prints and eye-smacking patterns. You can keep your heavy border saree for festive celebrations at the office.
For the blouse, you can go for boat necks and collar, long sleeves, and edgy back designs. Cotton is the most preferred fabric for office wear sarees due to their neat and crisp look. Other important fabrics are georgette, cotton silk, crepe, and even cotton and georgette blends.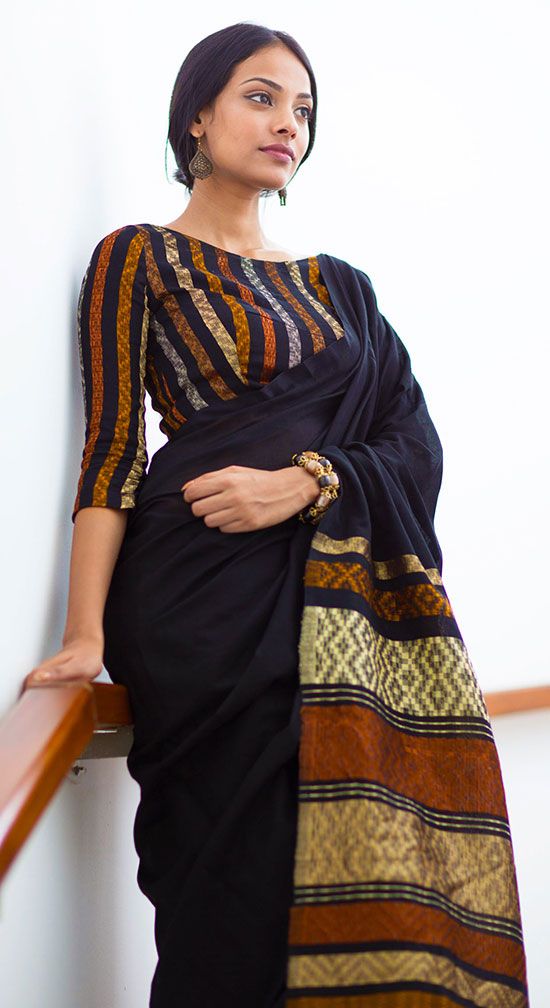 Accessorizing your sarees can complete the look. But go for simple statement pieces like earrings or catchy bangles. Don't try to wear too many accessories, unless you want to look like an overstuffed doll.
Kurtis and tunics are becoming a popular choice for office wear in India. Kurtis are sewn to a standard of perfection with remarkable comfort. A wide variety of color, pattern, designs, and fabric in kurtis gives you a lot of options to choose from.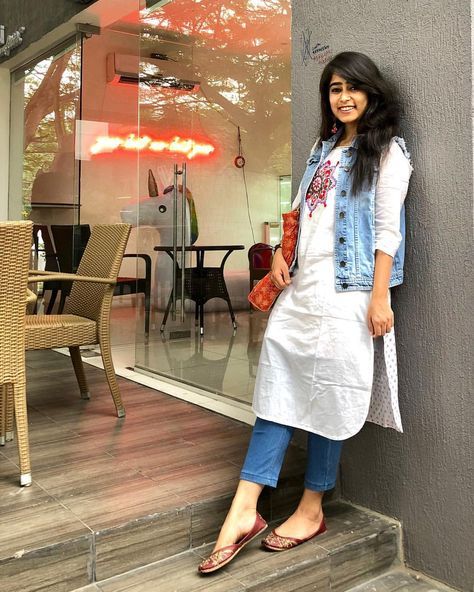 However, you should know which type of kurti suits an office environment. If you like playing safe, we would recommend A-line and long or straight kurtis for office. A-line kurtis are perfect formal wear. They are simple yet elegant and can be teamed up with leggings, Patiala, jeggings, or even dhoti pants.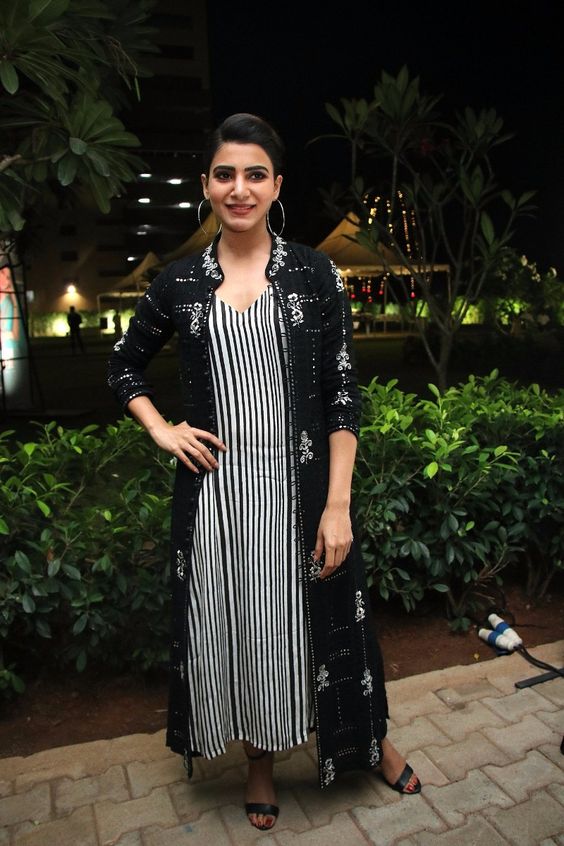 If you love experimenting with your looks, you can go for trail cut, flared, high-low, and other asymmetrical designs. The trail cut kurtis have a C shape cut on the front and the back side. They go best with jeans and jeggings. Flared kurtis are also in trend these days, thanks to their unique and flowy appearance. A high-low cut kurti gives you a bold and confident look.
Chinese neckline and stand collar are the most suitable necklines for office wear kurtis.
In terms of designs, you can go with anghrakha styles, color blocks, patterns, and layered kurtis. You can also wear a kaftan in short and knee-length as it's a great way to look stylish and confident at work.
Salwar suits are also a versatile office wear option for women in India. They are very comfortable. Hence, once in a while you must ditch your denim and switch to breathable salwar kameez. To avoid looking boring, style your salwar suits by picking the right type, colors, and fabrics. If you ask our favorite then its the collar neck traditional style salwar suit. They look effortlessly elegant and chic. A clean finish and cut make them suitable for all body types.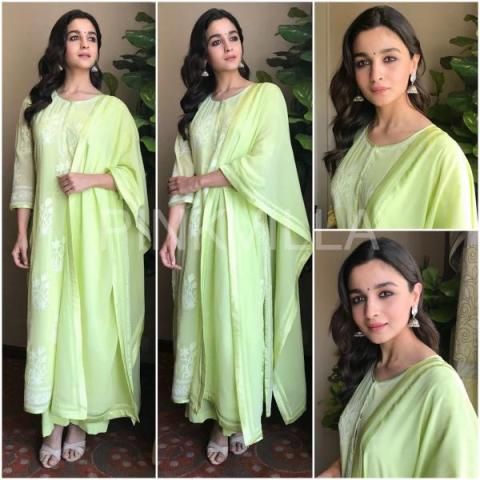 You can also wear palazzo suits for the office. The flare of palazzos makes them highly comfortable.
Cotton fabric is mostly preferred in office wear as they are breezy and absorbs moisture, giving you a fresh feel throughout the day. The key is to pick elegant necklines when wearing them to the office, so you look professional.
If you feel wearing a simple salwar kameez to the office can be mundane, you can wear a plain koti or jacket with kameez. Dupattas should be ideally of cotton fabric. Try to avoid lace or net dupattas. If you don't like carrying a full-sized dupatta, you can also style a scarf with your ethnic outfits. Pick indigo colors as they are ruling the fashion industry right now.
Tips to look stylish in your ethnic office wear:
Wear the right accessories: Indian statement jewelry like oxidized jhumki, silver chains, charms, and bracelets look good on ethnic wears. When wearing them to office, pick small and elegant pieces rather than the heavy ones. Create a contrast between your clothes and jewelry.
Wear ethnic footwear: When wearing ethnic clothes to the office, pair them with Indian traditional jutis to complete the look. Jutis are very comfortable and compliment all types of ethnic dresses.
Fusion: The best part about Indian wear is that you can mix them up with any of your western outfits. Kurtis over jeans is the best example of a fusion between ethnic and western.
Choose fabric wisely: The comfort of the dress you wear largely depends upon the fabric used. Cotton, cotton silk, silk, jute, and jute cotton are the most preferred fabrics for office wear ethnic clothes.
Don't forget the most important things that complete your look – confidence and smile. Indian wear is very versatile and gives you enough room to experiment. So be creative and chalk out your own styles.