Becoming an Air hostess is a dream of many young girls in India. Thanks to the lucrative nature of the job and the high remuneration that one gets after getting placed in an airlines cabin crew.
The aviation sector in India is realizing a tremendous growth compared with the past decade and the demand for air hostesses and the other cabin crew staff is constantly on the rise.
Air hostess courses are becoming very popular in India owing to its fascinating job profile, which includes traveling by air to new places, meeting new people including celebrities and gaining new experiences onboard.
There are a number of air hostess training academies in India that train and equip young girls and boys for this fascinating job professionally.
Though the job profile for an air hostess is fascinating, becoming an air hostess is not easy.
It is desired to take training in a professional air hostess training institute in India to bag excellent job opportunities in both domestic and international airlines.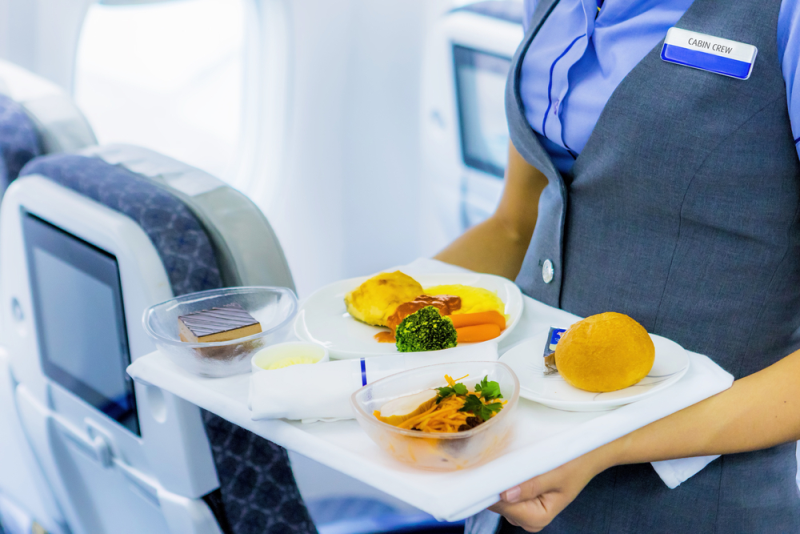 Skillset desired for Air hostess training in India
Becoming an air hostess is a dream for those who wish to fly and travel around the world.
The air hostess is also known as the cabin crew, flight attendant or cabin attendant.
The future of aviation in India is bright and thus choosing to become an air hostess is also beneficial in terms of monetary benefits.
But there are certain requirements and skill sets that an ideal candidate should possess to become successful in this career. The job requires the person to,
Have a pleasant, enthusiastic and friendly personality.
Take care of in-flight and interdepartmental announcements and co-ordination
Ensure the safety of the passengers
Ensure the comfort of the passengers who are under her care.
Help passengers on board and assist them with their seats, luggage, etc.
Provide comfort items such as blankets, food, and books to the passengers
Explain safety procedures and ensure that the passengers abide by them
Assist passengers at times of distress and emergency.
The air hostess should always throw a smile on her face and have good communication skills.
Eligibility criteria
Should have conversational English skills,
Should speak the local language fluently and other foreign languages as desired
Should be within the age limits of 18 to 26. The age limit, however, varies between airlines.
The candidate should have completed 10+2 with a degree in hospitality or other graduate degrees
The air hostess should have a minimum height requirement of 157.5 centimeters for females and 170 cm for males.
The minimum eyesight requirement should be 6/9. Some airlines require candidates to correct their eyesight and make it a perfect 20/20.
The candidate should be eligible to procure Indian Passport
The candidate should be unmarried
They should be in good health with proper height to weight proportions
They should have a fair and a clear complexion
There should not be any visible piercings or tattoos.
The air hostess should not suffer any cardiovascular or other terminal illnesses.
Career and Job Prospects after training in Air Hostess courses
Developing one's skills and constant upgradation of one's knowledge is a constant thing in the air hostess career.
After years of experience as an air hostess, the candidate will move on to other jobs such as check hostess, ground hostess, and other airline relevant jobs.
It is also one of the highest-paid jobs in the country and a majority of the international airlines pay better than domestic airlines.
Soon after graduation and training, an air hostess can command a salary of about Rs. 25,000 to Rs. 40,000 depending on the airlines.
In senior positions, the remuneration can go up to Rs. 50,000 to Rs. 75,000 in domestic airlines.
International airlines, however, can pay the candidate up to Rs. 2 Lakh per month.
Apart from the monthly salary, air hostesses are entitled to additional allowances such as medical insurance, discounts on flight tickets, retirement plans, etc.
One of the reasons why the air hostess courses are very popular in India is the high remuneration and allowances offered for the candidates.
Top Air Hostess Training Institutes in India
The aviation industry in India is experiencing a constant boom since its inception. Air hostess courses and training are offered in a number of institutes in India and the top three among them are listed here.
These institutes groom the candidates appropriately and make them job-ready so as to get them employment in world-class airlines in both ground staff and cabin crew job profiles.
FrankFinn Institute of Air Hostess Training: The FrankFinn Institute of Air Hostess training was established in the year 1993. It is a registered company in the UAE and is one of the top training institutes for Air hostess in India.The institute has more than 100 centers across the country and also runs some international centers in Hong Kong and Dubai.It has a world class reputation and has a tie-up with some of the leading airlines. Candidates between the age group of 18 to 24 years can apply for the air hostess training program.
Bombay Flying club college of Aviation: The institute is based in Mumbai and is the only training institute approved by the DGCA, the government of India.Candidates planning to take up air hostess training in this institute should have completed 10+2 stream of studies and should be within the age group of 18 to 25 years.
Universal aviation academy: This air hostess training institute based in Chennai is popular among candidates wishing to base their carrier in-cabin crew.
The institute has the best reputation and the candidate has to undergo an elaborated selection procedure.To qualify for training, the candidate should have completed class 12 and have exceptional communication skills.
Final words
Becoming an air hostess is a dream of many girls and boys and is one of the high profile jobs in India. The profession is a dream for many young aspirants owing to the job role and the remuneration it promises. The top training institutes also place these aspirants in the best jobs soon after their graduation.